Hold Cleaning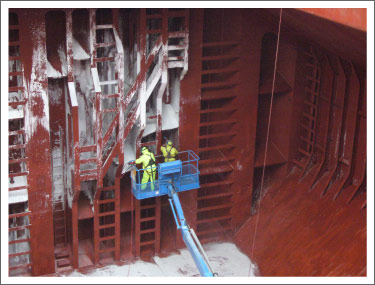 SA Shipwrighting maintains it's own specialized equipment, including tank top descaling machines, compressors, cherry pickers, hoses, pumps, hydro blasters, scrapers and ladders. We are able to increase, at short notice, our workforce and equipment, including heavy lift cranes required to work Panamax vessels.
Our extensive equipment and labour resources enable us to work several vessels in different ports simultaneously.
We are also able to provide the equipment to the ship's crew and can assist with supervision if required.
Our supervisors are the most experienced in this field. We have undertaken work in all SA ports and are able to provide services throughout Australia.
SA Shipwrighting supervisors and labor force have all completed extensive training and are subsequently qualified and ticketed with the following skill set: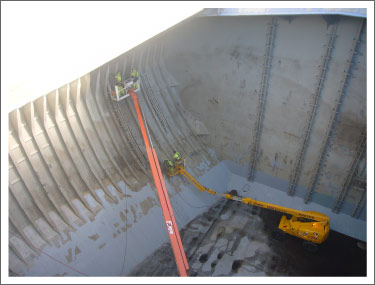 Scissor Lifts


Boom Lifts - EWP


Crane Driving


Maritime Industry Confined Space Regulations

Risk Assessments

Gas Detection


Hazard Analysis Identification


First Aid

We are able to perform the hold cleaning to the exact level required for each cargo, eliminating over cleaning, which saves the owners time and reduces costs. Our aim is to get your vessel back "on hire" as soon as possible. SA Shipwrighting have experience with all types of cargo residues.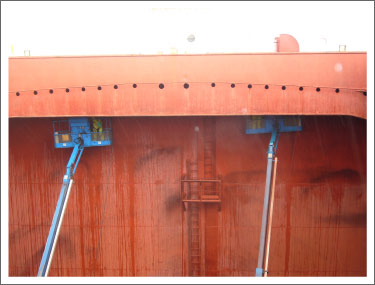 We know the exact level of cleanliness required for the vessel to pass survey and load.
We also recommend cleaning at regular intervals as the opportunity presents to keep your vessel in good condition overall.
SA Shipwrighting work with the discharging stevedores to offer a hold washing service that commences while the discharge is still in progress. This usually enables the vessel to present for a clean cargo within 24 hours of the discharge completing. If during this process we identify other problems with the vessel's holds, we are able to advise owners accordingly so that these can be attended to prior to the official survey. This often eliminates unnecessary costs and minimises any off hire time.
SA Shipwrighting understands the needs of Ship Owners. We know how important time is and offer a cleaning service that is time efficient and tailored to both the vessels needs & the cargo that is to be loaded.